The main PPE branch organization — Russian Association of Developers, Manufacturers and Suppliers of Personal Protective Equipment (ASIZ) is going to face big changes.
Very soon, on December 13, at the «Occupational Safety and Health» exhibition (BIOT) in Moscow, the name of the new ASIZ head will be announced. Vladimir Kotov was recommended by the Council of the Association as an ASIZ presidential candidate.
Getziz.ru, as always, gets and publishes the first-hand information. Vladimir Kotov told us about the PPE market, about success and challenges and changes in current legislation.
How it all began
I spent my childhood and youth in the famous Meshchera, in the Shatura District of Moscow Region.
The land of Paustovsky (famous Russian writer –ed.): swamps, peat bogs, fires … and a lot of work, since we lived on our own farm.
The studying went easily. I regularly won school Olympics in physics and mathematics. I enjoyed   self-education, which eventually allowed me to enter the MEPhI (National Research Nuclear University). I chose this university because they presented it as a forge of designers of nuclear reactors for spacecraft. In the process it turned out that spacecraft with nuclear reactors were still far away. The studying was difficult but interesting. If it were not for the collapse of the USSR, I would have worked at the collider near Zelenograd. The famous Large Hadron Collider, an accelerator of charged particles, which in 2008 was launched near Geneva, was originally planned to be built in the Soviet Union. My friend and I studied according an individual plan and received a high-level education.
Unfortunately, I did not manage to work as a physicist. I graduated from the University in the early 1990s. I think everyone remembers what time it was, especially for the science.
First business
Like many students, I always tried to make a little money on the side. It was the heyday of the cooperative movement. My friends and I made and sold furniture, arranged excursions for foreigners and tried to engage in mediation business. This is how the workwear business appeared in my life. We worked according to the then popular pattern of sales. It was arranged by my younger brother. With 100% prepayment we sold a huge at the time amounts of winter workwear, working garments and smock-frocks. In total, there were more than 20 thousand pieces. Now, of course, this sounds ridiculous, but at that time it was a lot for us. The clothes of the Shatura weaving and garment factory lay on the shelves of the warehouse collecting dust. We acted as intermediaries and sold everything to Mosavtodor (Moscow road building company- ed.).
Thus the workwear business in the joint-stock Company Rosspace started in 1993.
At that time, the market was just emerging. Few people knew how and what should be done. We had to think out everything by ourselves. For example, we were one of the first companies to issue a workwear catalog. Later this idea was very well developed by the PPE Company Tract. We were inspired by the German clothing catalog «Otto», but our catalog had only a few pages. We were the first to start outsourcing, although nobody new this word in Russian then. We hired telemarketers who, using price-lists, offered our products to companies that were found in the Yellow Pages and other telephone books. The product range was very short: cotton working suits, felt boots, tarpaulin boots and mittens. The entire collection was placed on an A4 sheet.
Our efforts allowed us in three years to become a recognizable company in Moscow and the Moscow region.
Initially, we did not have our own production facilities and warehouses. Many deals were made by delivering the required volume from the manufacturer, as they would say now, "just-in-time". Later, we began forming warehouse stocks and learned how to manage them. Of course, we looked to our colleagues – Tekhnoavia and Vostok-Service, who appeared a little earlier than us. We reinvested the first profit: bought a sewing factory. The next one we built virtually from scratch.
We had sewing and shoe projects and a dealer network. As one of the first in the market, we introduced bar-coding technology in 2008 and set up a corporate university. In the most successful period, the Rosspace group employed 700 people and had an annual turnover of about $ 50 million. At that time, we were among the five largest companies in the Russian PPE market.
Administrative official and top manager
In 2012 I received an offer from the Head of the Shatura District Administration to serve the cause of my small homeland. I decided to agree and went out of business. I was appointed Deputy Head of Administration for economics and investments in the Shatura municipal district. It was a very interesting period in my life. My business experience helped me solve budgeting issues, set up interaction between state federal programs and municipal programs, implement activities funding in accordance with the approved provisions, develop an investment map of the area and attract investments; provide practical support for small and medium-size business and much more.
It was a huge work load under constant scrutiny from both the prosecutor's office and residents in the area. It's a small place where everyone knows each other, so the eternal topic of corruption in such place is particularly relevant. Therefore I strived to resolve all issues I was responsible for as correctly and transparently as possible.
Of course, there were people annoyed by the changes. There were attempts of obstruction, anonymous slander letters were written and so on. But we managed to successfully implement changes in a short time, and this is what matters.
In total I worked in the municipal administration for about three years. During this time much was done on the local level.
The next stage was the position of the Director of Strategic Development in «Moskabelmet» group. And this was a challenge again. Firstly, it was a falling but highly competitive market, where it was necessary to find new development opportunities. Secondly, up to that point I had never been in the position of a salaried employee. I worked out a development strategy, restructured sales service, organized business processes, participated in the development of new products, and this was only a part of the tasks.
Here it was necessary to be actually a preacher: having created a strategy for the tasks of shareholders, it was necessary to motivate the top managers in order to achieve success as a team. It would seem a classic task of setting up teamwork. The difference is that the mix of the owner and director as a team leader is one thing, and a hired top manager as a team leader, is another. People either believe you or not. You have to more often achieve compromises and take into account more nuances in collaboration with the colleagues, both vertically and horizontally.
Having tried myself in different roles, I learned to see the situation from all sides. As a businessman, I had a successful experience in dealing with fiscal authorities. Becoming an official and heading the tax debt commission, I saw the problem from the other side. Being an employee, I gained experience in organizing joint activities and projects in the situation of a limited administrative leverage, taking into account different interests.
About PPE
The topic of protecting a working person, the topic of occupational safety is probably like first love.
Few would remember that before ASIZ there was MAPPO — Moscow Association of Professional Clothing Manufacturers. One of its masterminds was, by the way, Andrei Popov (Head of Technoavia Company – ed.), and the director was Igor Rogozhin (ASIZ MD – ed.). At some point, MAPPO outgrew itself. Something more far-reaching, active, and effective was needed. Then, in 2001, an idea of the PPE Association emerged. From the very first days I entered the Council of the Association, where I was responsible for the information and analytical work. I participated in the creation of ASIZ website, in the preparation of the first analytical reports and in the development of the standards of free PPE distribution. At the moment I am an honorary member of the Board of the PPE Association. Therefore, it is not by chance that a significant part of my social circle is people from the PPE market.
In recent years, I have not had any commercial interests in this field, but I have been regularly participating in the Association activities and events and keeping myself up-to date on the latest changes and new requirements. Therefore, it is not accidental that, faced with a number of difficulties caused by new conditions, several ASIZ member organizations suggested that I take a more active part in solving these issues.
Now the PPE market, as well as the country in general, experiences a challenging economic situation. New changes in regulatory documentation are coming. However, I am confident that under these conditions we will find an opportunity for further development of our market, as it has already been done many times.
PPE Association: What is to be changed
Last month I had meetings with many affiliates. I can say that not all members of ASIZ can clearly answer the question: why do I need the Association? Some people say that they want to receive information that helps to conduct their business. Some are in the Association to get a discount on participation in the BIOT (OSH) exhibition. There are those who believe that the Association should actively write complaints to governmental bodies on violations of occupational safety legislation. These requests show the direction for the further development of ASIZ. It is necessary to clearly lay down goals and objectives, set up priorities that will be understood and approved by each member of the organization. Participation in ASIZ should be beneficial for each affiliate.
First of all, a convenient and up-to-date format of communication with affiliates is needed. People must be heard and understood.
Any-time access to permanent online communication is needed. The economic situation in Russia is far from being stable. The planned economic growth in the coming years is unlikely to exceed 1.5%. Extensive growth of the PPE market, as was the case in the 2000s, due to the rapid growth of the economy, will not work. The plans of the Ministry of Labor to intensify work in 2019 on the implementation of general standards of free distribution of PPE can play both a positive and a negative role. There is a danger that with the introduction of regulatory changes due to a risk-based approach, the volume of the PPE market will decrease.
A transitional period is expected when the end user will be able to choose by which method, new or old, he will calculate the need for PPE.
What method do you think the end user will choose? Evidently the most cost effective for him. The first task facing the Association is to prevent such a scenario. It is necessary to take an active part in the development and implementation of methods for determining risks in providing PPE. The first working meetings with colleagues involved in the special assessment of working conditions have already been held. There is a complete understanding of the need for collaboration. We must become direct participants in the development and implementation of new legislation that affects the PPE market. After discussions with affiliates I came to the conclusion that the time is ripe for making amendments in the Technical Regulations TR CU 019/2011. It was adopted in the shortest time possible, and many of his provisions hamper the work now. The task is very difficult, but it can be solved with the support of all affiliates.
Today there is a kind of wait-and-see situation, when people wait for action from others. There should be a clear understanding: if you do not participate in the process, you do not form your environment yourself, then it will be formed for you, and then at best you will play the role and occupy the niche that you will be allocated.
The Association must form the legal and regulatory environment. To do this, affiliates must be in constant constructive communication and working interaction with the authorities. We, as the Association, must become an active member of public councils, occupy the niche of professional consultants and experts.
My principle is to always take an active position. This is the only way to fulfill the mission of protecting a person from the effects of harmful factors, because there is nothing more valuable than human life.
No matter how strange it may sound in the current situation, but we do have an opportunity of achieving an increase in the PPE market instead of the expected reduction. We must set a goal in three years' time to increase the consumption of PPE, both in monetary and quantitative terms, by 20% above inflation.
Today, the production of PPE, as a separate industry, does not appear anywhere. Even the market turnover is an approximate figure: about 2 billion Euro a year.
More than 100,000 people work on the Russian PPE market. Hundreds of factories and plants manufacture products. Taxes paid to the Russian budget by participants in the PPE market are estimated at billions of rubles, and there are practically no companies involving offshores in this market. We have a good chance to separate ourselves in a sub-industry to allow us to more actively protect our interests. We provide safety of millions of workers. Twenty years ago the price-lists of PPE supplying companies consisted of several dozen positions. Now these companies print thick catalogs where protective gloves alone are represented by hundreds of models.
I want the government to give us due attention. And one of the first tasks is to increase the number of ASIZ members. Today, the Association counts a bit over 80 affiliates, but more than 1,000 companies operate on the PPE market. For the voice of the Association to be heard, for our opinion to be taken into account, the number of members has to be significantly larger. In three years this number must be at least doubled, and this should be a real active membership, and not a nominal one just for a tick.
On the one hand, everything is simple here — it is not profitable, you will not be able to lure people into it. Therefore ASIZ will constantly legally lobby the interests of its member organizations, including the application of Federal Law #223 and changes in the regulatory framework. This work will provide concrete economic benefits and impose obligations on affiliates to manufacture and supply products that strictly comply with current legislation. In order to legally promote the interests of the ASIZ participants, it is necessary to assume obligations for the proper product quality and timeliness of delivery. And we all must think about it and work out new requirements for the ASIZ members.
The Association includes manufacturers, distributors, certification centers and research institutes. Their interests do not always coincide, and this is normal. I think that it is necessary to concentrate on what unites them all: on the development of our market, as everyone is interested in this. This will allow the branch to receive the status of an active participant in government programs.
An important point: one has to understand the essence of the contradictions between the ASIZ members. They are in the state of achieving a compromise on terms of transactions, value, delays, etc. This is also one of the elements of market development. It is necessary to ensure that there are more services and opportunities: if some do not have money, while others do not have demand, then supply will not be formed, which means there will be no development.
One of our strategic goals is to create safety culture at workplace, and this applies to absolutely all citizens of Russia. Proper use of high-quality PPE must be instilled from childhood. It is necessary to explain to children what gloves, eyewear, helmets, and reflective elements are used for. Children must be taught to correctly identify hazards, to correctly select and apply PPE.
Why did I decide to run for ASIZ presidency?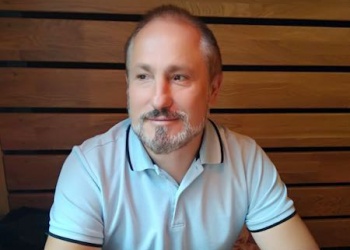 An initiative group offered me to run for the presidency of the Association, and I agreed. The PPE market is near and dear to me, I stood at its origins. And it is interesting for me, together with ASIZ members, to improve the situation in the field of occupational safety and provision of personal protective equipment. This is a very important goal. I am already at such an age that I want to engage in an interesting and socially important activity together with professionals, most of whom I have known for many years. I understand perfectly well that this cannot be done without the support of the entire professional community, and I hope for this support. I hope that the current President of ASIZ, Yuri Sorokin, will help me with his experience, otherwise it will be hard for me. During last month I had many meetings with Yuri Sorokin and we discussed a joint plan of action. Yuri Sorokin will remain an active member of the ASIZ Council and the Honorary President of ASIZ. We have known each other for more than 20 years, and I can say that I consider Yuri Sorokin in many ways to be my teacher.
I am open to communication and search for compromises between the participants in the ASIZ. I hope that the ASIZ members will support my program at the election meeting on December 13, 2018.
---
The Russian Association of PPE manufacturers (ASIZ), established in 2001, is a member of the European Safety Federation (ESF). The Association includes 80 largest companies of the Russian PPE market. The members of the Association among others are Vostok-Service, Tekhnoavia, Energokontrakt, Moderam, Zelinsky Group, Russian branches of 3M, Honeywell, UVEX, Ansell and many others. ASIZ Association holds annually the largest international OSH exhibition in Russia – called BiOT)