"John Lennon once helped my father", says Great Britain's Mark Johnstone,  CEO of JSP and one of its main shareholders.
"Mark[2]  is a reliable and loyal business partner, one of the best marketing specialists, an expert on the creation and development of new products and their promotion in Europe", Anna Dmitrieva (getsiz.ru) introduces her interlocutor.
An Oxford and Exeter University graduate, to begin his career he spent 10 years with Price Waterhouse Coopers, a multinational company.
It's high time he opened his own consultancy himself. It is always a pleasure working with him, but, more importantly, such cooperation is always efficient and mutually beneficial. This can be proved by all JSP partners.
Mark, could you tell us about the history of JSP? How is it connected with the world-famous Beatles?
The company was founded in 1964 by my father Clive Johnstone in London. In 2017 it will celebrate its 53rd birthday.
Work clothes were its first product. JSP's warehouse was in the same[7]  sub-basement opposite  Olympic Sound Studios where the Beatles were recording their debut albums.
It  was filled with an atmosphere of freedom, creativity, the energy and enthusiasm of the young, of whisky[10]  and, of course, of beautiful music and rock-n-roll!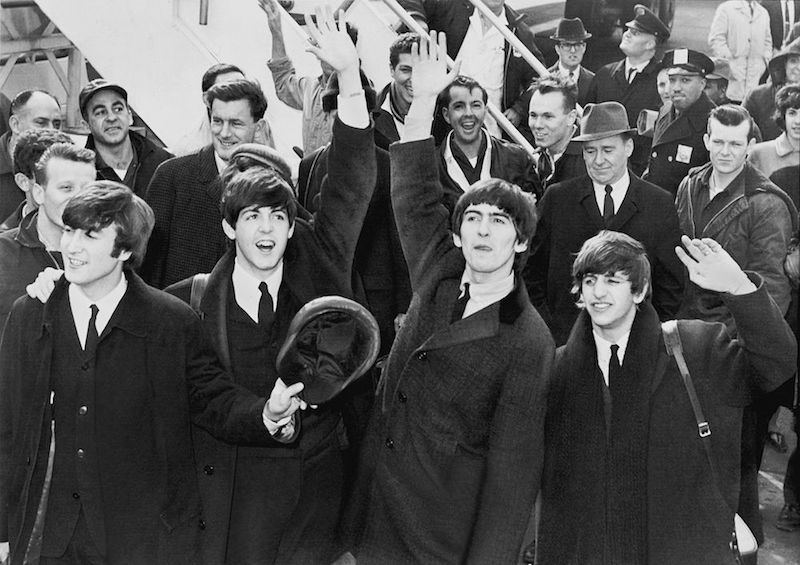 It's an open secret that before recording, the Beatles enjoyed dropping in the bar. It was the case the day my father was dragging a cart to the sub-basement, John Lennon noticed that the cart wouldn't move, and that the man obviously needed a hand. Without fanfare he came up to my father, and together they brought the cart to the warehouse.
They got acquainted and John amicably invited my father for a drink at the bar. Of course he accepted the invitation. Thus, JSP forever linked its history with the legendary Beatles.
So how did personal protective equipment appear in your product line?
In 1971 we rolled out our first protective hard hats, in 1972 – ear protectors, safety goggles, in 1974 – safety glasses. The business was quickly gaining momentum.
In 2014 independent experts from Frost & Sullivan, an international consultancy, gave JSP the prestigious Market Leadership European Head Protection Award for its commitment to providing outstanding industrial head protection products. The success was the fruit of many years of work of JSP's professional team.
What kind of investments do you make in your own company?
In 2008 we made significant investment in manufacturing automation in Oxford. Now 100% of safety goggles are made by robots.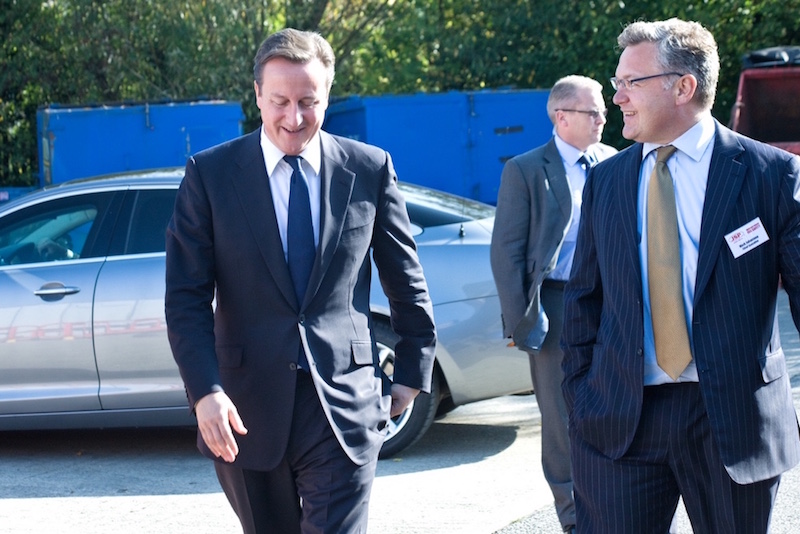 In 2011 we welcomed David Cameron (the then Prime-Minister). He highly appreciated our new production lines.
What do you believe to be the major advantage of your company?
We are developing quite quickly, keeping abreast with new trends and devising[1]  innovative products. We have the most modern equipment and technology. Our laboratory can perform almost any test for our group of products. And, of course, we have a team of highly-qualified experts in research, production, promotion and marketing in the field of PPE (personal protection equipment).
What is the geographical range of your activities?
JSP successfully operates in 95 countries: throughout Europe including Russia, in  Asia, East and North Africa, the USA (although there, JSP is yet to fulfill its potential), South Africa and Canada . We embrace globalization. Our policy is not about taking over spheres of influence, but about providing our fully-fledged, uniform range of PPE and equal exposure of our goods in all regions .
It's important that our products easily pass all tests in any country in the world and is in line with all standards. Russia plays an important role here. Thanks to its different climate conditions, we have to adapt our products to extreme conditions, such as the rapid change in temperature (from 40°С below zero to 50°С above zero).
Russia's extremely rough conditions in terms of industrial pollution for using PPE are equally important. For us this factor provides a stimulus to enhance and adapt the product. If the latter proves successful in Russia, then it will be successful in other countries as well.
So Russia can be considered a testing ground for new products. If they appeal to local workers, security engineers and purchasing managers – then they can be launched on other markets.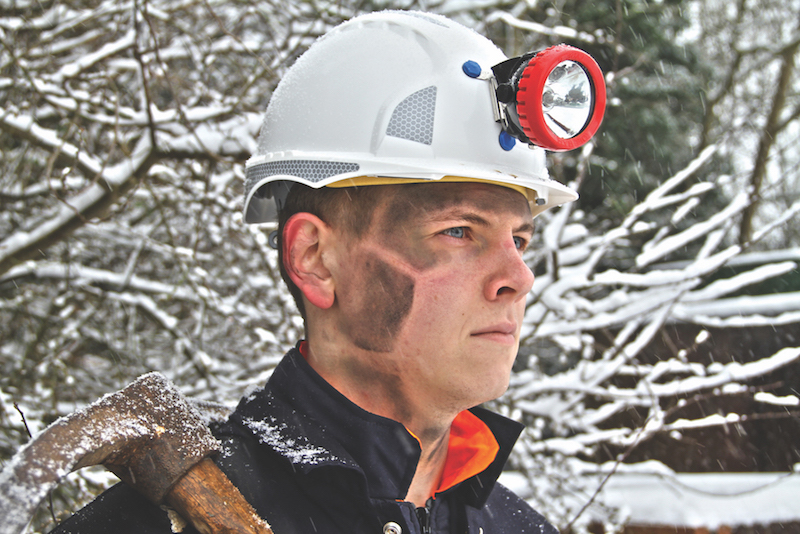 What new products did you prepare for the professional safety exhibition?
First of all, we have presented new safety goggles for extreme working conditions. They can be used beyond the Arctic Circle.
Thermex goggle is an advanced double lensed goggle with a technology that offers fog-free use, and complies with the requirements of optical class 1. This is the best model offering dust, liquid splash, molton metal and extreme temperature protection (documentally confirmed successful performance under the temperature range of -40°С to +50°С). These goggles can be used are actually devised to be used together with hard hats of any manufacture due to special adjustable belts. It also offers 99.9% protection against UV radiation.
We also offer our new hard hat Skyworker – an excellent solution for working at height. It provides side, front and rear impact protection from the shock absorbing liner. It offers temperature protection, the temperature ranging from -40°С to +50°С, including in low-light and night time conditions. It is equipped with high intensity class reflective material.
We also put on display the lightest protective glasses in the world – the new Stealth weighing 16 grammes. They have thin shutterproof scratch-resistant lenses that comply with the requirements of optical class 1 and allow virtually no distortion. It also offers anti-mist use and 99.95% protection against UV radiation. The frame provides comfortable usage for all face types.
Mark, like many Europeans and Russians you are keen on football. What team are do you cheer for?
Football unites people. There are no boundaries or politics in this sport. Many Russians are Chelsea fans like myself. I'm a loyal fan. I even have a season pass and I'm doing my best not to miss a single match.
Our company has a road obstructions department. It is these JSP fences that are at the London stadium. In 2008 I watched a Chelsea match in Moscow. That was just spectacular and a bit troublesome! I happened to be in the sector with Manchester fans and we nearly got beaten up. However, we managed to move to another sector. It was in Luzhniki stadium. Chelsea lost to Manchester on penalty kicks. In 2012 our colleagues from "Vostok Service" joined us to watch the match between Chelsea and Munich Bavaria, and then we won!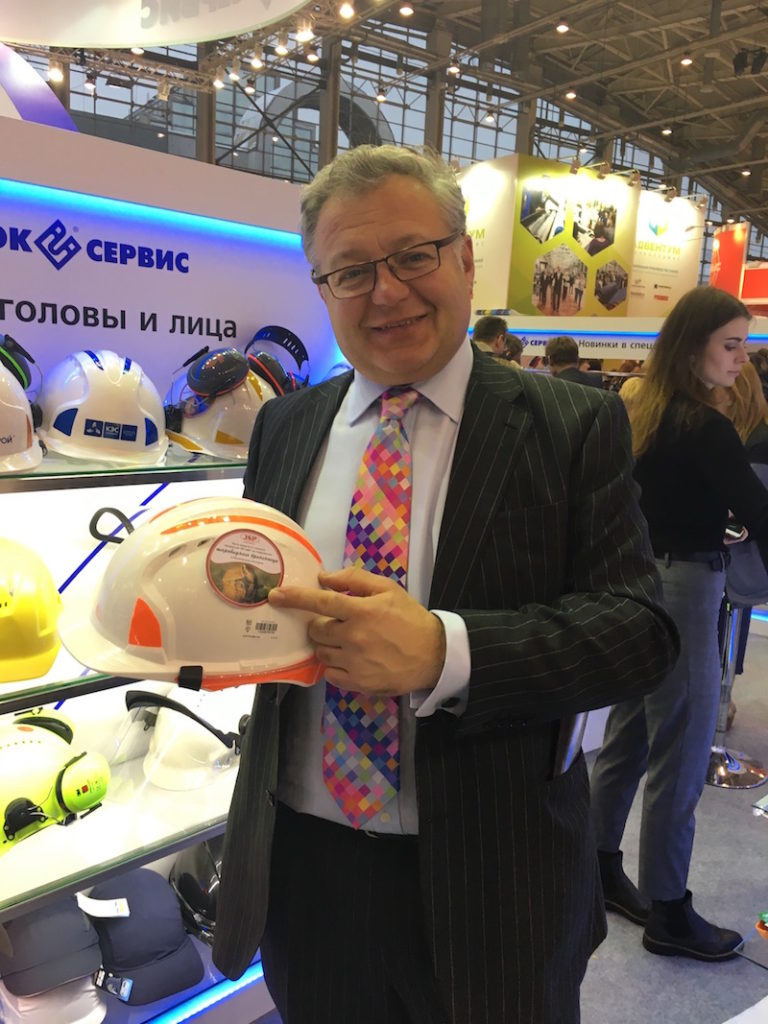 The most important difference in industrial production in Russia, and in Europe — not the climatic conditions. Although they are important.
The main thing — work in heavy polluted environments. The heavy industry is still low level of automation in Russia. Europe has decided the problem of contaminated and extreme working conditions through the automation of production processes.
Thus, for the workers of the Russian industrial enterprises requires much more advanced in their protective PPE properties than we have at home. We develop these PPE including specifically for Russia.
What do you remember most from trips to Russia?
I still have a memorable visit to the company «Karelian Pellet» in Kostomuksha. I managed to communicate with themselves metallurgists — shops masters — the end users of our products, to hear first-hand about their concerns, needs, wishes.
It was the best experience of direct access to the consumer. I got valuable information. And I was very pleased to speak on equal terms with these harsh and experienced people.
In addition, the journey itself in Karelia by car from Petrozavodsk has shown me such a beautiful and pristine place. I remember the source from which drinking water is the king Peter the Great, right there on the road suddenly came elk.
A stop by the lake revealed to me for the first time the absolute silence of nature and the universe. It was absolutely no wind and we heard only his own breathing. And the air! Its godlike! I even managed to steer the SUV on the present forest road!
How does the crisis, sanctions on your sales in Russia?
Russia adapts and JSP with her. Import substitution will play a huge positive role in the future development of industry and production in Russia. Of course, all foreign companies have expressed concern about investments in the Russian economy. I am completely apolitical in this matter. But the level of uncertainty and unpredictability is extremely high yet.
But to whom I feel absolute confidence and sincere friendship — so it is to the Russian people. To all Russian people who work in the market of safety, develop it, to unions, to all those who work on the ground and in the mines, in the sky and in the sea.
Our exclusive partner in Russia — the Group «VostokServis» Companies in the 2000s to develop the market faster anybody. The company was already a professional catalog, which includes the world's best brands on labor protection.
We carried out joint training programs. This is really serious to develop the market of labor protection and industrial safety. Now the Russian market has entered the next stage of development — localization of production.
We plan to organize a joint venture with SC «VostokServis» production in Russia. But we act in this matter carefully and progressively. Perhaps the opening of our production in the CIS countries.
What's new you showed at the exhibition of labor protection and industrial safety in Russia in December 2016?
First of all, we have introduced new safety glasses for work under extreme conditions. They can be used in the Arctic Circle.
Goggle Thermex  — protective goggles have a double lens with a unique anti-fog coating 1 optical class.
These glasses — the best on the market to protect against mechanical damage and particle spray chemicals and metals from fogging with indirect ventilation, tested successfully at very low temperatures (documented successful operation at temperatures from minus 40 ° C to plus 50 ° C ).
Fully suited and adapted for use with any helmets manufacturers have wide adjusting straps. To provide 99.95% protection from UVA / UVB.
We also offer Russian in his new helmet SkyWorker — the perfect solution for working at heights.
With mikrokozyrkom and enhanced protection against all types of damages: strokes from the front, top, occipital and lateral blows.
Helmet allows to operate at very wide temperature range from -40 ° C to + 50 ° C including in conditions of reduced visibility and night time.
The helmet is equipped with reflective elements.
We also showcased the easiest in the world of new glasses Stealth ™ — 16 grams.
Are the thinnest, yet strong lens with optical class 1, which practically do not give distortion. The lenses have a treatment from fogging and scratching. Socket provides ease of use for all types and face shapes. Protect against 99,95% UV radiation.
Mark, you're like the majority of Europeans and Russian love football. Who do you support?
Football brings people together. For this sport there are no borders and politics. Many Russian — Chelsea fans like me. I am a devoted fan. I even have a season ticket. I try not to miss a single significant match.
In our company there is a department for road barriers. It JSP guards stand at the stadium in London. In 2008 he was on the Chelsea match in Moscow. It was spectacular and even a little anxious. We are in a sector with the fans of Manchester. And there we almost beat. But the move could end up in another sector. It was in the Luzhniki Stadium. Chelsea then lost to Manchester United on penalties. In 2012, we went along with partners from the East-Service at the famous Chelsea match with Bayern Munich. And then we won!
What would you wish all the participants of the Russian labor market protection in 2017?
We would like to see strong leadership on the part of government and corporate health and safety. It is a proven fact — that the production of a strong culture of health and safety creates a more efficient business.
Top management should put the health and safety issues as one of the key items on the agenda at each meeting of the Board of Directors with key performance indicators to measure their performance. Risk Assessment, produced by qualified personnel is essential, and the aim should always be first and foremost to prevent them.
Issuance of PPE (personal protective equipment) should be a last resort. But if necessary, the protective measures and programs should be properly implemented, and that is essential — with the right training.
This means that workers should be given the right PPE to ensure the correct level of protection, and all this is accompanied by a correct understanding of how and when to use PPE data. They must be suitable to man and to integrate with other PPE and protective clothing properly. PPE should be regularly replaced with new ones, including with the control of shelf life. We should be allocated to the correct and realistic budgets for occupational safety programs.
In the UK, over the years we have seen a huge change in the production, in the environment and in everyday life. Of course, the government led organizations and individuals to exercise greater responsibility. Act of 1974 on Health and Safety at Work has begun transformation.
Legal culminated in a landmark Law of 2007 on Corporate Manslaughter and Corporate killing humans. According to this law, persons, institutions and organizations can be held criminally liable for errors due to gross violations of safety regulations. This further strengthened the health and safety positions and responsibilities of Directors at a high level.
Of course, for the organization's most valuable asset is its people. We must work together to ensure that the Russian workers the most effective means of protection — those using recent innovations, comfortable, in a contemporary style and fit person.
It is important that these modern high-quality PPE not only come to the Russian consumer, but people have been trained in how to use them properly. The purpose of JSP is simple, we want to help improve health and safety in the workplace!